It's that time of year again! When all creatures young and wild get down and dirty in the fields of Indio, California. Coachella is more popular than ever, going for two full weekends this year. Which means it's especially no occasion to play it safe or serious. Find your muse, whether she's the retro rocker or dreamy hippie, and go all-out. The music festival is one of the few places you can shamelessly play dress up, so why not take advantage?
1. The Flower Child: For a look that exudes splendor in the grass, a vintage-y floral dress, whisper-light and gauzy-sheer, looks romantic with an ethereal headpiece and a beat-up pair of biker-meets-cowboy boots, to ground the sweetness and give it some necessary edge.
Kain Badu Printed Silk-Chiffon Maxi Dress
On Net-a-Porter
for $390.
Dauphines of New York Once In A Lifetime Headband
On Shopbop
for $110.
Golden Goose Fawn Broadway Boots
On Ssense for $1,190.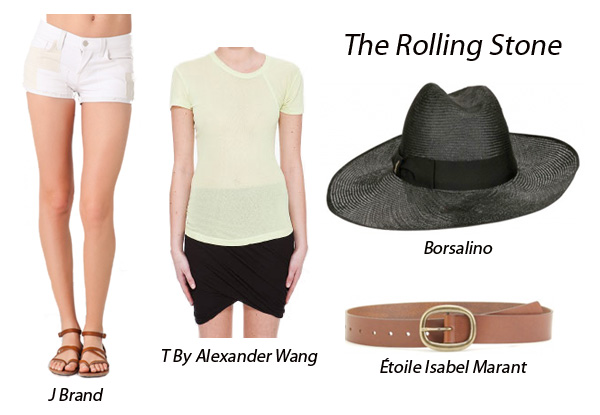 2. The Rolling Stone: Paying homage to the rocker chicks who rode with the Stones, like Anita Pallenberg, by wearing a straw hat with a brim as wide as your patchwork shorts are tiny! Daring, tomboyish, and completely unbothered, Anita defied convention – and all the rules (even Mick Jagger has said he couldn't keep up!). Here's a revamp of one of her more casual looks.
J Brand Leather Trim Denim Shorts
On Shopbop
for $275.
Étoile Isabel Marant Zutti Leather Belt
On My Theresa for $125.
T by Alexander Alexander Wang Lemongrass Mesh T-Shirt
On Ssense for $115.
Borsalino Parasisol Straw Hat
On Luisa Via Roma
for $268.
3. The Hipster on Holiday: Appropriate your city staples, like the all-purpose leather jacket with a Southern California sense of whimsy. A ruffled crop top is apropos under the hot sun, along with a maxi skirt that resembles a vintage find and a pair of round sunglasses.
Balenciaga Motorcycle Jacket
At Barneys New York for $2,595.
Missoni Elsa Cropped Crochet-Knit Top
On Net-a-Porter
for $530.
Paul & Joe Sister Edith Broderie Anglaise Cotton Maxi Skirt
On Net-a-Porter
for $300.
Illesteva Frieda Sunglasses
At Barneys New York for $200.