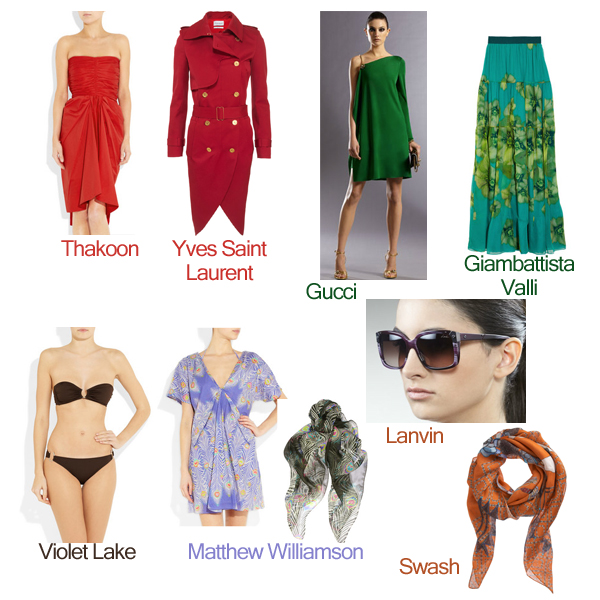 In honor of Friday the 13th – or in spite of, rather – I think we should invite some items into our wardrobe that are believed to ward off evil. From fiery red to Irish green to symbols off of horses, birds, and wild animals, I'm feeling positive energy abounding. With the right piece of clothing, good luck can't be far behind!
1. Red: The Chinese associate the color red with good fortune and happiness. Red envelopes of money are given out during holidays, and the color is forbidden at funerals.
Save YSL's statement-making trench for days you want to feel your best, or Thakoon's sensuous strapless and gathered cocktail dress for hot dates – you're bound to get lucky in this number!
Yves Saint Laurent Cutaway Trench Coat
At Barneys New York for $2,990.
Thakoon Draped Cotton-Blend Poplin Dress
On Net-a-Porter
for $1,590.
2. Green: Good fortune is relative. While green is an unlucky no-no in certain cultures, just think of the luck of the Irish. Not only is it the color of money and a symbol of fertility, but four-leaf clovers are an ultimate find when you're in need of some good news. Gimbattista Valli's flowing, tiered maxi-skirt carries a print that's reminiscent of shamrocks, while Gucci's exquisite one-sleeved shift dress will make you feel like a million bucks.
Giambattista Valli Printed Silk-Chiffon Maxi Skirt
On Net-a-Porter
for $3,175.
Gucci Asymmetric Dress
At Neiman Marcus for $1,450.
3. Horseshoe: Don't forget your lucky horseshoe! It's traditionally kept on hand as a talisman, but I think it's much more intriguing to wear yours discreetly. These metal bits ruche your bikini top and sit seductively on your hips, for a successful day at the beach.
Violet Lake Domino Bandeau Bikini Top
($85) and Blush Bikini Briefs
($85).
4. Peacock: In Hinduism, the peacock isn't a show-off bird but a symbol of integrity and protection. And finding a peacock feather is instant good luck no matter what your religion. Matthew Williamson embraced the exotic, transfixing feather, using it as a poetic pattern for much of his Spring collection.
Matthew Williamson Peacock-Printed Silk-Chiffon Scarf
On Net-a-Porter
for $210.
Matthew Williamson Peacock-Print Cotton Kaftan
On Net-a-Porter
for $665.
5. Horns: In Italy, the cornicello (as in, little horn) is an amulet that acts as a safeguard against the evil eye. I believe horns can do the same, whatever form they're in, from Lanvin's screw-accented sunnies, made of violet horn resin, to Swash's double-layered, silk-chiffon scarf. Because protection from sun and wind doesn't hurt, either!
Lanvin Square Horn Sunglasses
At Neiman Marcus for $365.
Swash Horns of Africa Print Scarf
At Barneys New York for $475.