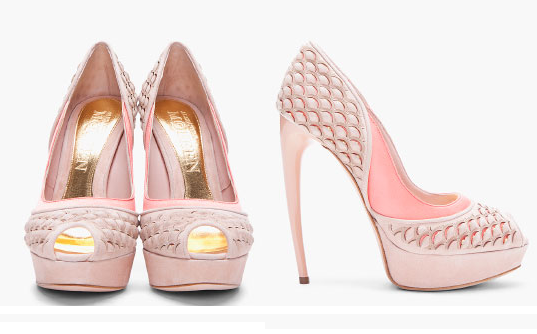 I'm not even going to bother comparing these to the mother of all ocean-tastic shoes, Alexander McQueen's hypnotic oyster-shell wedge. There's just no point! But as I obsess over those fantastical, high-end platforms ($4,630, to be exact), it's evident they have definitely planted a seed of desire, one that calls to me with a siren song.
Enter a different McQueen-take on the romance of the seashore and all the treasures it has to offer. These pumps don't beckon with swerving, golden lines but with a wonderfully femme, pink-sand hue and layers of intricate suede with scaled perforations. Teeny, gold-tone beads are inserted in scattered measures all over the "scales," creating the effect of pearls that are yet to be discovered. If these don't bring out your inner mermaid, I don't know what will! Happily, despite all of the oceanic romance they boast, they are totally, 100% wearable and versatile. Go ahead, make them part of your world. On Ssense for $1,195.
Pair with: It's only natural to wear a radiant aqua-blue pencil skirt, an ideal compliment for a mermaid-on-land effect. Burberry Prorsum's suede skirt is trimmed in raffia for that needed summertime feeling. On Net-a-Porter
for $1,995.