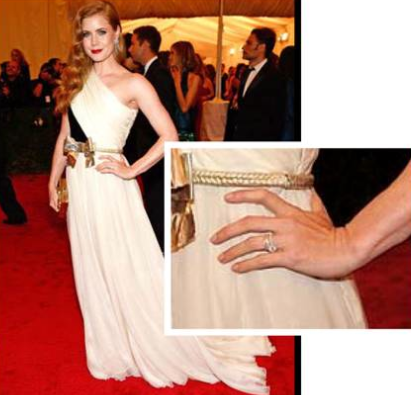 I didn't realize how over bright, quirky and even dark nails I was until I caught sight of Amy Adams on the Met Museum's Costume Institute Gala's red carpet on Monday. After months of searing neon polish, Amy's Essie nails look fresh and chic. For the opening of Schiaparelli and Prada: Impossible Conversations, Amy kept it fabulously elegant in a Giambattista Valli gown and tumbling, thirties' screen siren-style hair. The ideal complement to a deep red lip? A naturally manicured nail. One coat of Essie's classic pink shade Mademoiselle and a second of nude Brooch the Subject, out of their Winter 2011's Cocktail collection, made for a delicious pairing: the pink-tinted flesh tone.
Follow Amy's hands-on approach to glamour and try melding the two colors yourself for your next evening event.
Mademoiselle, $5, and Brooch the Subject, $4.10, available on Amazon.