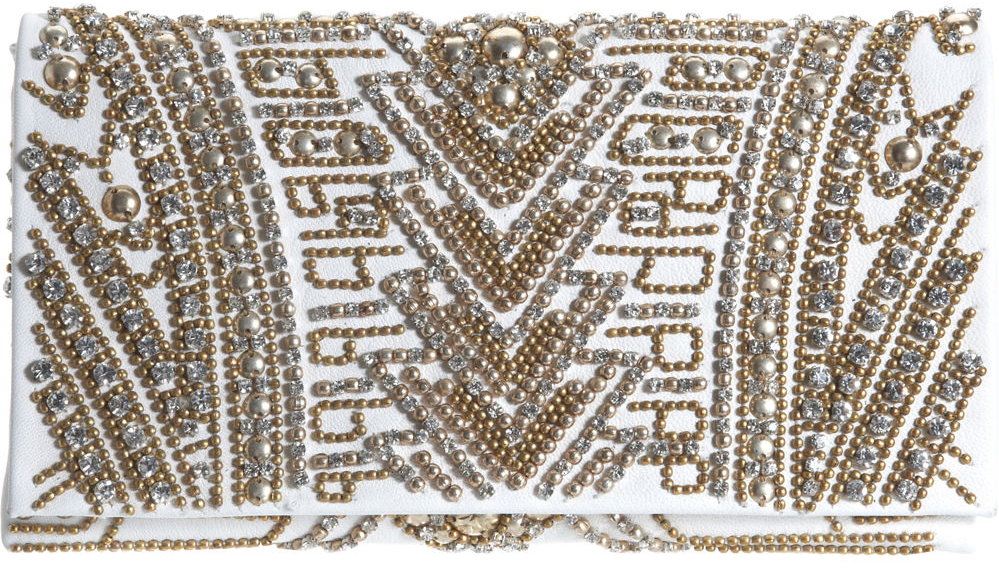 I used to wear nothing but black. Now I dread wearing black! Maybe it's a phobia of looking like the Grim Reaper. Or maybe I'm just getting more in touch with my need for flash with age. Either way, Vegas is beckoning! In spirit, that is. Balmain's brilliantly blingy Arielle clutch is calling my name. Actually, each one of its, I don't know, thousands of white rhinestone-esque jewels and gold studs is speaking to me.
I'm just not sure if demure "Arielle" is the right name for such a sensational white-leather pochette. It should be called Cher or Elvis (circa 1971) – this thing has showmanship. Yes, there's a fine line between showgirl-chic and just plain showy, and this bag walks it, but who ever said indulging in some ostentation is a crime? At Barneys New York for $3,395.
Pair with: Shy now, are we? I'm going full-force with a pair of boots that belong on the big stage. Christian Louboutin's 20th anniversary-edition of the Highness Tina boots (the revamp of the Tina includes a platform and a peep-toe) put all other suede shoes to shame.
On Net-a-Porter
for $2,295.