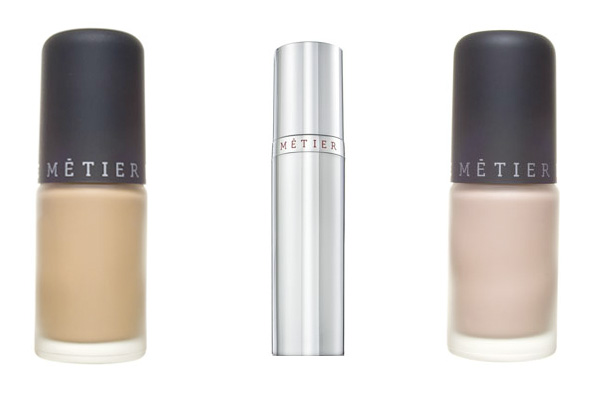 I have used Peau Vierge Anti-Aging Complexe Tinted Treatment for almost two years now. It's always on my face, even for a quick run at the gym. When I ran out of my third bottle last month, I noticed there were now two other foundation options. When I started using Métier de Beauté, the line literally consisted of just an eyeliner (the amazing Liquid Precision Eyeliner) and Peau Vierge! I decided to request samples of the Soft Touch Tinted Moisturizer and the Classic Flawless Finish Liquid Foundation to see how they stack up against each other. And here are the results!
(All are available at Neiman Marcus.)
1. Peau Vierge Anti-Aging Complexe Tinted Treatment ($125):
This anit-aging treatment is a tough one to beat. Nothing makes me glow more than the Peau Vierge Tinted Treatment. Its 4-in-1 formula is the best! It's got everything: foundation, sun protectant, anti-aging fighter, and radiance brightener. The coverage is light to medium, but you can layer as many coats as necessary and it will not look cakey. Every person I have turned this product on to has become an addict!
2. Soft Touch Tinted Moisturizer with SPF15 ($75):
Just as the title describes, this is both lightweight and oil-free, making it ideal for the humid summer weather in Asia – or anywhere, for that matter. The coverage is very sheer, which is great for the beach or poolside when you just want a touch of glow. I layered this under Peau Vierge and the effect was very pretty, yet very sheer.
3. Classic Flawless Finish Liquid Foundation ($68):
I never thought I'd like anything as much as Peau Vierge, but this comes very close! It is so creamy, and it goes on incredibly smooth – just perfect for dinner dates, or whenever you need extra coverage. It doesn't give the glow that Peau Vierge does, so I still dabbed a little of that over the Flawless Finish around the eye area for a touch of radiance. It is a full coverage foundation; meaning, it even covers all my little freckles. It is a bit heavier than the two other options above, and a little goes a long way. I will definitely be using this for photo shoots, too!