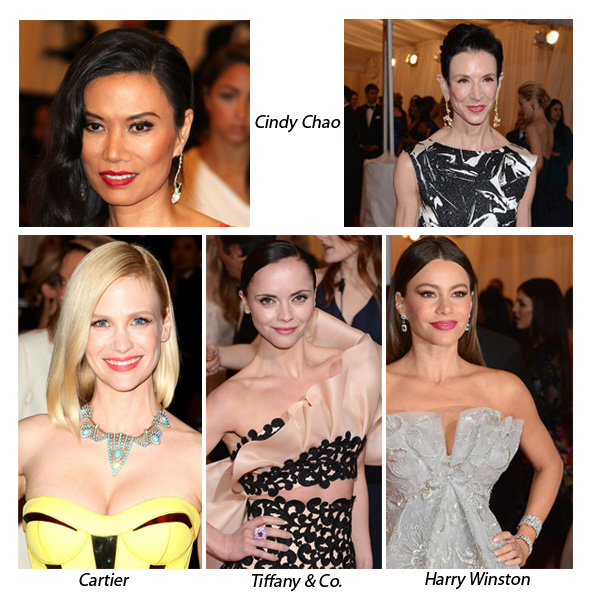 While the Metropolitan Museum might have an vast collection of irreplaceable jewels from ancient Egypt to the Renaissance, there's no doubt the sparkle spotted on the attendees of this week's gala gave the collection a run for its money.
Often called the "Oscars of the East Coast," this year brought sparkle in spades. While some gowns glittered all over, much of the credit goes to Cindy Chao, whose Autumn Branch bangle, Cotton Flower earrings, and Ruby Gecko ring adorned Wendi Murdoch, setting off her bright-coral Vera Wang gown. Chao's handmade pieces graced the likes of another socialite: Amy Fine Collins wisely wore her hair up so her Ruby and Diamond Sunflower earrings took center stage, along with a bunch of the trademark Branch bangles.
Sofia Vergara looked classically elegant in Harry Winston jewels; chunky bracelets amped up the can't-miss intricacies of her Marchesa dress. Versace girl January Jones popped in a bombshell-worthy yellow dress, but it was her incredible turquoise Cartier necklace that made the look. And not that her wildly structured Thakoon dress needed any help, but Christina Ricci's eye-popping diamond cocktail ring by Tiffany & Co. raised it to any ever higher level of glam. So which dreamy jewels would you want to wear?