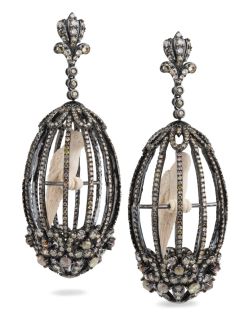 Jewelery designers David Joseph and Miriam Salt have just earned themselves the title of "jewel masters." Their pair of one-of-a-kind birdcage earrings is most impressive thing I've seen in a long time. And probably will be for awhile -this bedazzling accomplishment is pretty hard to beat.
Oxidized 18-karat white-gold cages, set with icy-rose and single-cut diamonds, encase hand-carved, archival mammoth-ivory birds. With darkened gold and two-tones of stones, the designers were going for a "more vintage feel," one that harks back to Shanghai in the '30s. Or as Josephs refers to it, "the Paris of the Orient." Not only do these have an exotic inspiration, they transport my imagination to a more romantic time entirely!
Carving these precious birds took a whopping 20 days of work, so it's no wonder they remind me of museum-quality, Chinese-ivory carvings. And don't fret about the ivory; using anything archival is like up-cycling, reusing the old stuff, so it's all good. Just appreciate the beauty! With Fabergé egg-worthy, intricate detailing, this level of glamour is made for royalty. But these earrings are far more fun than clunky old Queen's jewels. Their whimsy is nothing but chic. Available at Bochic for $44,750.