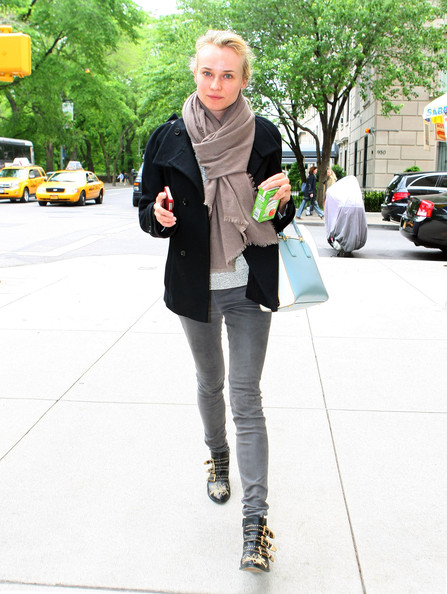 When it comes to getting dressed, whether she's wearing an ostrich-hemmed, electric-purple Prada gown with ample irreverence at the Met Ball or simply tossing on a cozy scarf and skinny jeans to hit the NYC streets, Diane Kruger can do no wrong. Gray jeans and a shrunken peacoat sound run-of-the-mill, but when you have the savvy mind to add Chloe's studded Susan booties and better yet, Prada's Pyramide top-handle in two-tone white and baby-blue, basics don't look quite so basic anymore. I love the way the gold accents on both accessories complement each other so perfectly.
We should all take a cue from Diane when it comes to our off-days and wear our "on"-day bags. Life's too short to save our treasure pieces only for special occasions – especially when your treasure doubles as a brilliant basic! Here's how to recreate Diane's streetwise look:
Chloe Studded Leather Ankle Boots
On Net-a-Porter
for $1,290.
Victoria Beckham Denim Tux Mid-Rise Skinny Jeans
On Net-a-Porter
for $295.
The Row Fantene Double-Breasted Wool Coat
On Net-a-Porter
for $2,190.
A.P.C. Sky Blue 80s Sweater T-Shirt
On Ssense for $220.
Ralph Lauren Black Label Knit Scarf
At Barneys New York for $195.
Image Credit: Style Bustro.