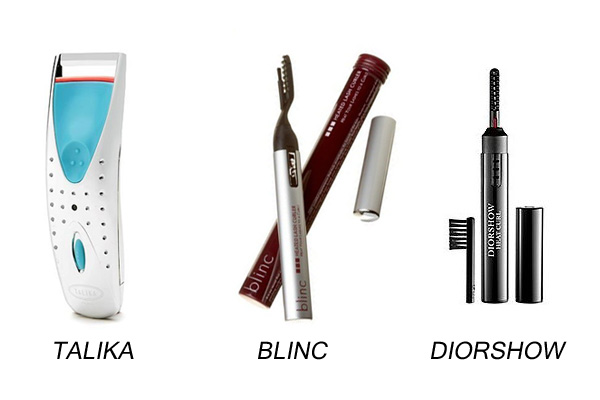 After playing around with Too Faced's Lash Extension System, I was inspired to go test lash curlers. Lately, I've seen some pretty crazy contraptions that look like they would burn your cornea, along with your lashes.
Most I've come across are like the Talika ($35.49), a typical lash curler with a heated element – which I'm sorry but only works if you have super-long lashes, which I DO NOT. I can barely get the tippy ends of my lashes in there, so it does me no good.
But the heated curlers by Blinc ($18.38) and DiorShow ($25) are different: they come with a flat wand you press up against your lashes, so it doesn't matter how long – or short! – your lashes are AND you can't accidentally hurt yourself (at least not easily).
They both are (replaceable) battery operated. Turn on your curler on and give it a minute to heat up, using before mascara. Go under your top lashes, push the wand up, and keep it there for a few seconds (I didn't want to risk any longer). I kept repeating until I got the optimal curl. Remember, there is a limit to how much your lashes can actually curl and you will know it when you reach that point.
As far as I can tell, Blinc and Dior work the exact same way, and the Blinc is cheaper, so guess who won and came home with me? One difference: Dior's directions say to use their curler after applying mascara to eliminate clumps, which you do at the peril of the curler – and the risk of raccoon eyes. It gets warm, so I imagine it can get pretty messy; if you decide to do it that way, you can easily wipe the surface clean while it's still slightly hot (it doesn't get scalding, so if you use a thick paper towel, it won't burn you).
These work amazingly well and allow your mascara to enjoy full effects. If you're anything like me, you might get a little greedy and be tempted to try the curler out on fakes. To be safe, test it out to see if it will melt the falsies first, before attacking your eyelids. Also, don't get addicted! I'm definitely not going to take the heat every day. Be careful with your precious lashes and use tools like these sparingly.
All available on Amazon.