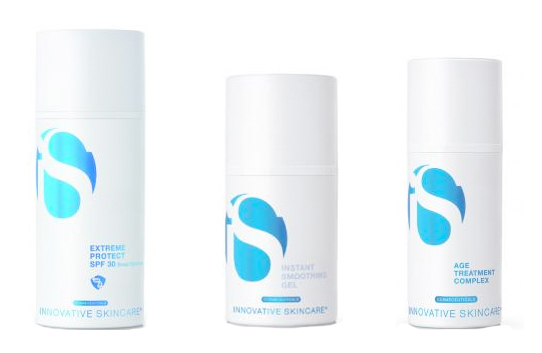 Exciting news from iS Clinical! Their new, much more accessible "iS" line doesn't require consultation for use and will be sold online. Based off the brand's original principles, iS will also be pharmaceutical-grade, botanically based, and results-oriented. I'm most excited about the Extreme Protect SPF 30, a revolutionary sunblock that uses their breakthrough Extremozyme technology. It prevents damage on a level like we've never seen and helps helps stop skin cancer development!
My other instant favorites include the Instant Smoothing Gel, which is like an instant facelift, and the Age Treatment Complex, formulated to rid your face of discoloration, boost radiance, and kick dead, dull cells.
Thanks to iS Clinical, we are doing a massive giveaway to get you ready for summer. Allo you have to do to win is follow iS Clinical @iSCLINICAL and @Beauty_Snob on Twitter (Leave a comment with your Twitter handle!).
10 lucky followers will receive the iS Essentials Kit, valued at $44, which contains trial sizes of: Daily Cleanser, Age Treatment Complex, Reparative Moisturizer, and Restorative Eye Complex.
And one very lucky follower will receive the big prize: the entire full-sized line, valued at $634! Good luck, snobs!
Giveaway ends on May 31st at midnight- winners chosen via random computer drawing.