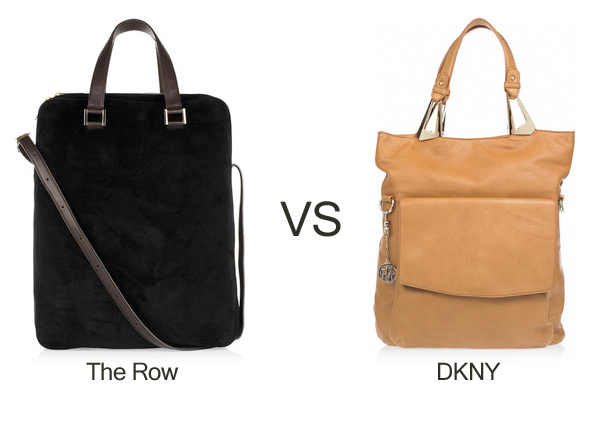 Another case of the reoccurring bag-snob dilemma: frugal or top snob? Both of these practical bags are fabulous, but, of course, The Row's has got a hefty price tag. Yes, it's sleek, delicious, and lets you choose between flashing leather and suede. And I did fall for it months ago. But it was more of a conceptual love affair. For the love of my laptop – and my bank account – I elect DKNY. A bag like this is bound to get beaten up and well-worn. Why worry about the functional bags? I'm already exhausted caring for my treasures. And while my MacBook is something of a treasure in itself, it will be well taken care of in DKNY's camel-leather tote. The triangular metal touches at the handle add pizzazz and the easy-access front pocket brings the convenience I desire. Both available on Net-a-Porter.
The Row Twin leather and Suede Laptop Tote
, $3,700.
DKNY Pocketed Leather Tote
, $425.