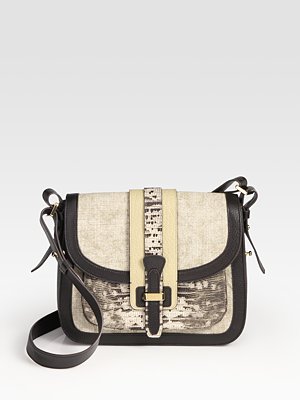 He has done it. Michael Kors has officially taken over the world. Recently, his woven leather tote was enough to make me call my travel agent and book a beach-bungalow getaway, but now we're on another level. We're not just talking vacation gear. I have been waiting for him to kill it with his bag collection – it was only a matter of time – and now here it is: the newly made-over Gia! With a mix of rough-looking linen and lizard trim, a delectable pull-tab closure, the detailing across the flap, the whole thing is sweet perfection. It's quintessential Kors in its exacting simplicity, yet it gives you a major eyeful of goodies to ogle over.
I'm not sure this beauty should be called the Gia; Kors' other Gia was pretty but not exciting, and this closure is less obvious and more current. It's a package deal, but what ultimately has me lusting big time is the mix of textures and tonal shades. Seriously, I must have this. At Saks Fifth Avenue for $895.
Pair with: This bag is making me greedy for a cornucopia of contrasting textures. Let's throw some lace and rope in the mix, courtesy of Valentino. These espadrilles work because they're casual and stay in the neutral color scheme. Valentino Lace and Leather Espadrille Flats, $510.