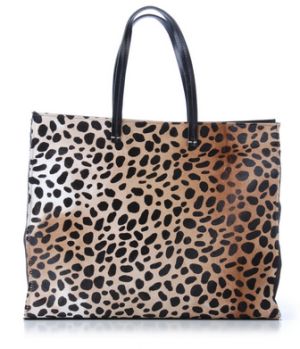 Roztayger is my favorite new discovery – the site carries unique brands you can't find anywhere and everything is chic and affordable. I almost want to keep the secret to myself but I always take care of my fellow Bag Snobs! So, I have convinced them to give away 4 amazing bags. We will give away one bag a week for the rest of May.
First up is the leopard print calf hair tote by Clare Vivier (retail value is $462). Everyone needs a basic tote but that doesn't mean it can't be in an exciting print and in lush calf hair. The more you use it the better it gets! For work or play and everything in between, this is a bag that will become a part of your life.
To ENTER, you must LIKE the Roztayger Facebook page AND the Bag Snob Facebook page. So that we know you have been on the Bag Snob Facebook page, answer this, "What's the last bag I bought?". Make a comment at the bottom of this post. At the end of the week, we will choose one winner via a random computer drawing. Each week in May we will have a new bag and a new chance to win! Only one prize per person will be awarded.
Thank you Roztayger for sponsoring this fabulous giveaway!