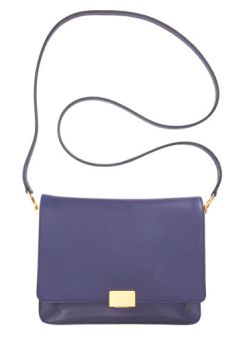 I need this bag. Everyone needs this bag. Whether life serves up a hectic, busy day or a fun, relaxing vacation, both will benefit from the freedom this sling brings. Of all the crossbody bags out there – and in my ongoing quest for ultimate convenience, I focus on a lot on them – this has the sophistication and carefree kind of chic we all want.
Smythson has been stepping up their game lately, but this is virtually perfect for its genre. The importance of a simple closure, essential for such a bag, cannot be over emphasized. I love my Valextra Isis, but that closure is super annoying; it requires both hands and full attention to operate. That's a huge no-no when it comes to bags those of us with hectic lifestyles (and that's basically all of us!) need. This hinge closure is as straightforward as can be, and so is the flap of grained leather. No muss, no fuss: just the way I like my on-the-move day bag. At Barneys New York for $830.
Pair with: I'll be toting this while wearing a glam pair of flats, like Yves Saint Laurent's leather Tribute ($695) or Fendi's metallic-patent multi-strap sandals ($560).