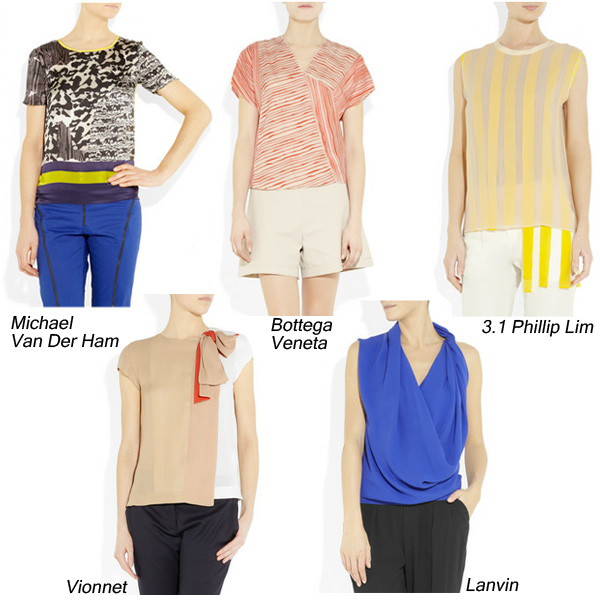 Jeans, pencil skirt or shorts, the right top is all you need to dress up any of your favorite bottoms. The hard part is finding one that exerts style, not effort. For me, you need to show some fun in the summertime, no boring somber tops. These tops on sale will keep you cool in more ways than one with color that will make you hot, in the way you want.
Michael van der Ham
($273, from $390) has a wonderful black and white print with yellow trim that won't make me a hypocrite, all you need is a pair of bright yellow shoes to set this mood straight.
I just bought this Bottega Veneta
top ($275, from $550) yesterday and I can't even wait to wear it. There is just fitted enough to give it shape but the thin silk and loose feel is comfort that will surely make this my favorite top this season.
I love yellow for summer, I wasn't kidding about the yellow shoes, another score I made yesterday. The sleeveless 3.1 Phillip Lim
striped tunic ($330, from $550) has ribbons ready for any celebrations you have or make up.
The subtle but vivid colorblocking on this Vionnet
top ($595, from $1,190) will give your girlishness time in the limelight, from work to play, this is as versatile as your imagination.
There is nothing like a perfectly draped Lanvin
anything ($1,396.50, from $1,995), snatch this up on sale and it will be a gem in your wardrobe forever.