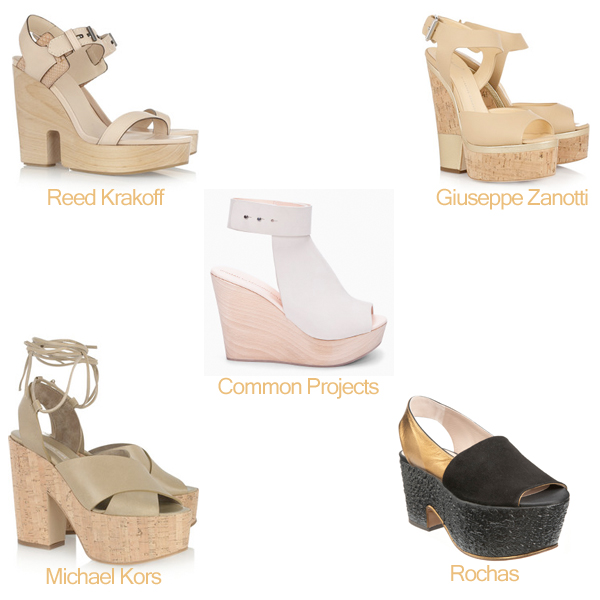 The dilemma comes every year. As the weather heats up, your dogs start to bark. I refuse to relegate my feet to the strict and sad territory of flats all the time – you've got to mix it up – but I can't be teeter-tottering on a stiletto heel all summer long. Here's one way you can chunk it up this summer and still look hot! Funky-chunky wedges are fun and functional. I especially love a good wooden wedge, whether it's casual or sexed-up, but I'm playing favorites here: Rochas' pair with a sole in a stucco-effect treatment is a statement all by itself
1. Reed Krakoff Wooden-Heeled Leather and Python Sandals: Reed could create a chicly chunky wedge with his eyes closed. All matte and monochrome, I'm loving tan leather and python on blonde wood. On Net-a-Porter
for $795.
2. Giuseppe Zanotti Leather and Cork Platform Sandals: Take your chunkiness with a healthy helping of sex appeal? Giuseppe is your man. Six inches of cork and leather is flirty and comfy (hey, it's all relative!). On Net-a-Porter
for $695.
3. Michael Kors Leather Platform Sandals: Nobody does urban safari as well as Kors. The easy pitch of these hearty platforms looks particularly right-on, especially with a slender wrap-around ankle-tie. On Net-a-Porter
$745.
4. Common Projects Cream Open-Back Wedges: Like butter! These are just so crazy-smooth, from the blast of cream leather to the ankle cuff to the wavy wedge. On Ssense for $620.
5. Rochas Slingback Platform Sandal: Wild and groundbreaking, a shoe like this is only for the fashion-forward. Be prepared to get loads more attention than the ladies wearing Louboutins! At Barneys New York for $745.