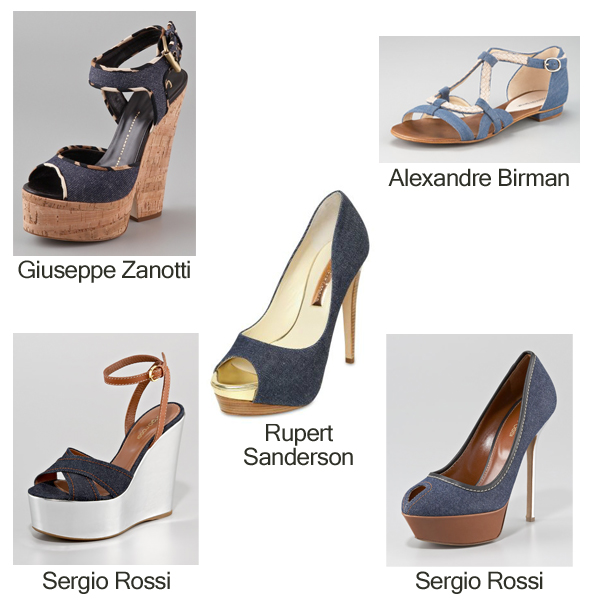 I am so happy to see denim shoes making a comeback. There was the lone Bottega pair I spotted a while back, which was totally worth drooling over, and now there's a flourish of great options.
I had a favorite pair years ago that I wore out just like I would my most prized pair of jeans. Hey, there's something about denim. Now I can have multiples, just like my beloved jeans! You know it's no good to wear the same pair of shoes two days in a row; they wear out faster and you really need to let them air out, not to mention give your feet a rest. These are my justifications. You will have to make up your own!
1. Giuseppe Zanotti Cork Cutout Wedge Sandals: We've seen the flirtiness of Giuseppe's shapely split cork, and we've seen the charm of his leopard trim. Now that denim is in the mix, this wedge is a no-brainer.
On Shopbop for $750.
2. Alexandre Birman Denim/Rope Flat Sandal: I loved this urban-nautical sandal when it first came out, and I love it even more now that it's on sale.
At Neiman Marcus for $264 (From $395).
3. Sergio Rossi Metallic-Wedge Colorblock Sandal: What do you get when you put three of the most neutral elements together? Dark denim, tan leather, and silver metallic combine for a power trio that goes with just about anything.
At Neiman Marcus for $695.
4. Rupert Sanderson Denim and Laminated-Gold Pumps: The same way that dressing up jeans can be an ingenious move, girly peep-toes look fab in a more masculine fabric.
On Luisa via Roma for $899.
5. Sergio Rossi Cachet Denim Platform: There is something so elegant about the contrast stitching, bold platform, keyhole-style peep-toe, and metallic heel – but luckily, not so elegant you can't rock these during the day.
At Neiman Marcus for $695.