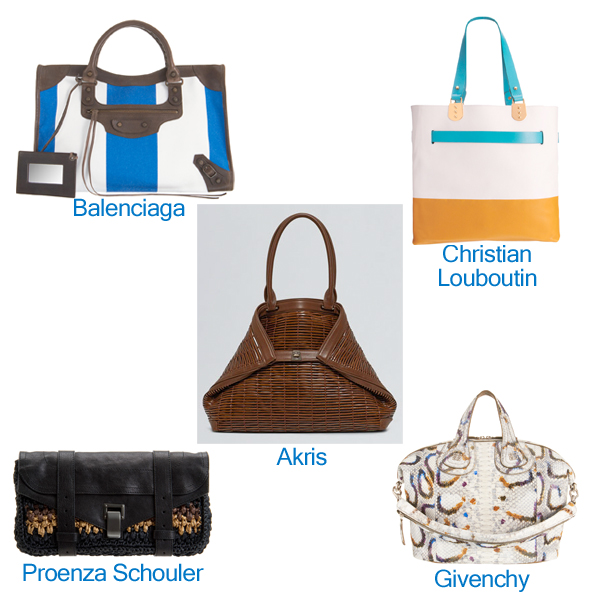 How do you reinvent a classic? A bag we have seen time and again, in every possible shade of the rainbow? By tweaking a few details to re-stimulate the eye. No, these are not bags you've never seen before. But they are refreshed, much like the renaissance your spring wardrobe is experiencing as of late. These newest incarnations may not change everything, but they might change your mind for the moment.
1. Balenciaga Arena Classic Toile Raye City: Sure, the style is yesterday's news. But I'm digging this nautical twist, especially with brown accents. It reminds me of a seaside cabana…gone city.
At Barneys New York for $1,495.
2. Christian Louboutin Colorblock Sybil Reversible Tote: We've seen it in metallic leather and variations of pony-hair, too. Now the Sybil has a preppy makeover that begs for a day in the sun. Let the blocks of color shine or flip it to solid leather for total simplicity.
At Barneys New York for $1,495.
3. Akris Ai Braided Leather Tote: The Ai bag is an on-the-go staple – the expandable feature is not to be missed. Now that it's in airy, wicker-like braided leather it's a summer must that feels brand-new.
At Bergdorf Goodman for $2,490.
4. Proenza Schouler PS1 Raffia Pochette: What a difference some raffia makes. The classic Proenza clutch takes on a summery new meaning with a woven body, totally offsetting that leather flap we know so well.
At Barneys New York for $995.
5. Givenchy Painted Python Medium Nightingale: You've seen the Nightingale on the arm of every celeb worth her salt, but have you seen it look this awesomely kaleidoscopic? Multicolor-painted white python is a feast for the eyes that doesn't quit.
At Barneys New York for $4,525.