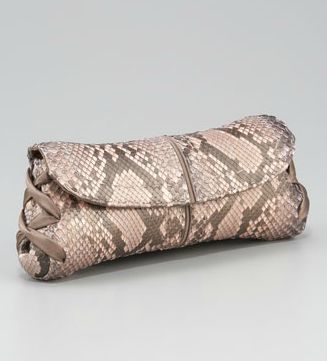 Ask V. Bruce Hoeksema if a bag can be at once devilishly sexy and alluringly sweet, and he'll answer you with a confident yes. And then he would show you the Ballerina, VBH's latest incarnation of the eternally seductive python clutch (now if only they could ship it to us Californians!).
Think hourglass-inducing corsets and spine-tingling bondage. At least, that's what lacing like this brings to mind. But then you consider the clutch's name, and point-shoe connotation invites an innocent new context. Whether you have a dirty mind or you're as pure as the driven snow, this shapely little bag has oodles of appeal. The silhouette itself looks alert, curvy, and cinched, and in that shade of petal-pink, complemented by taupe, it's as if the clutch is blushing just a bit. At Bergdorf Goodman for $1,900.
Pair with: Don't go for a literal ballerina slipper but a strong mixed-material pump from Jil Sander. This wedge blends linen, wood, and leather, and the wrap-around ankle-strap gives a nod to toe shoes. At Barneys New York for $550.