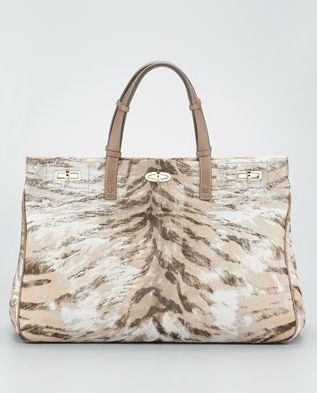 This classic VBH tote in tiger-print calf-hair is so incredibly chic, I can't stand it. It's got an arresting faded affect that is flawlessly current. But it will also just get better with time. It's the VBH way: contemporary and classic. Not only will this make your summer, it will bring you style and satisfaction for multiple seasons to come.
Hand-painted for a literally artful effect, the pattern and graduation is precision-perfect. This softly purring print fades in and out – not your typical in-your-face wildcat – and has that ever-coveted "used" effect, which you can really only get with calf-hair. Sometimes, as the skin ages, you don't get the exact worn-out fade you desire, but there's no going wrong here since it already looks perfectly faded. Wear this tote with everything, from daytime dresses to your favorite new neons to off-day athletics, and keep it forever. A love like this is sure to not fade away. At Bergdorf Goodman for $3,650.
Pair with: What else will fail to fade away? Your impeccably appropriate black cat eye. Stila's Stay All Day liquid liner ($20) is not only waterproof, it's virtually budge-proof, so your eyes can smolder while your tote plays it cool.