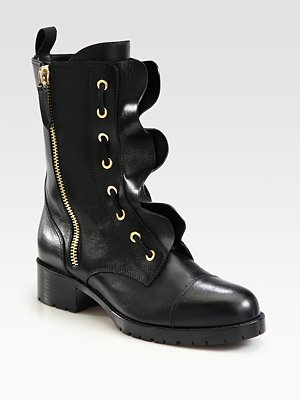 ShoeSnob describes the Valentino Ruffled Leather Motorcycle Boots with three words: Pretty. Freaking. Amazing.
Coquette gives you a peek inside the opening of Jimmy Choo's new San Francisco boutique which features an exclusive limited edition glitter iPad case for tech fashionistas.
Find out what keeps BeautySnob looking young! The Fresh Crème Ancienne Eye Cream after two happy years.
CoutureSnob is helping you get ready for summer with the Bergdorf Goodman sale.
Anya Hindmarch Baby Emergency Kit is a dream come true for tried-and-true bag snobs: a diaper system that will turn any bag into the ultimate functioning baby bag. At TotSnob.
Second City Style thinks it's time to take your latest shoe purchases out for a stroll with some guidance from Male Box: Step Into Spring!
If the Fall 2012 runways are any indication (uptown goths! dark disco divas! reformed biker babes! slick leather-lovers!), black is making a major comeback and we are going back to the shade in full force (finally). At JewelSnob.