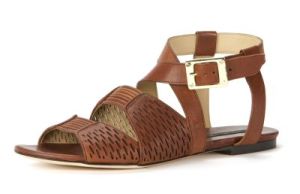 It's round two of ShoeSnob's multi-week Rachel Zoe Collection giveaway!
From Manolo to Louboutin, Stiletto Jungle loves luxe cork pumps for Spring.
Josie Maran's mist solves the salty, sticky problem so you can always have perfect beach hair! At BeautySnob.
Allie is Wired takes a look at Rihanna's brand new 'Where Have You Been' music video.
Coquette helps you find the best white blazers for spring, all under $100!
Renee Lewis Diamond Anchor Pendant Necklace is Shelter From the Storm. At JewelSnob.
Jet Set Girl Anne sat with the adorable Zooey Deschanel and took a peek inside her carry one bag.
Finally, a sweet and chic coverall for baby with no dinosaurs or trucks! Get the Bonnie Baby Rainy Cloud Coverall for your tot! At TotSnob.
Second City Style reports that the Hemline Index is both up and down and Market Uncertainty Causes Uneven Hemlines!
Shopping and Info loves the J Brand leather leggings seen on Kim Kardashian in New York City this week.
Selecting a statement look off of Lanvin's Spring 2012 runway, Jennifer Lopez carries that snake, encrusted with giant Swarovski crystals, with the confidence of a snob who knows her stuff. At CoutureSnob.
StyleBakery.com shows us 16 ways to wear a scarf this spring.
The Beauty Stop explains extreme couponing, beauty product style.