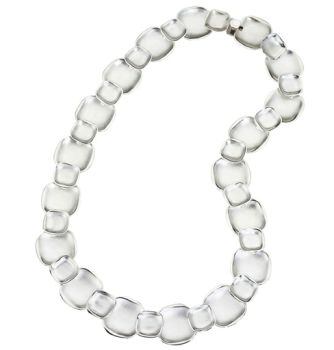 Iced-out or ice-cubes? Or something else entirely? Caroline Ballou has carved sterling silver into icy cobblestone-like discs, for a high-volume dimensionality that makes these look like so much more than are. In certain lights, her silver has the effect of glimmering crystals. The metal has been smoothed to a svelte finish, while the edges catch the light for a 3D effect.
Inspired by the cobblestone streets of a medieval Scottish village, this cooling necklace has that sense timeless beauty you'll always covet. It's not only an easy piece for ultimate versatility (genuinely colorless, you can mix it with anything), such enigmatic design promises lifetime of wear ahead of you. With so little effort required, this is a true investment piece that's well worth the money. On Jewelista for $1,495.
Post sponsored by Jewelista.