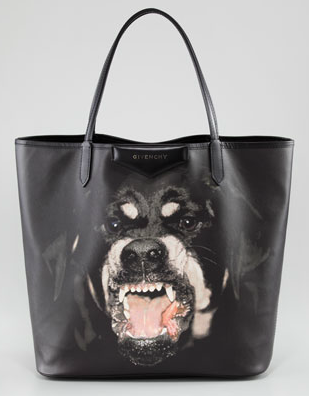 This is so scary! I know Givenchy unleashed an especially tough vibe for Fall 2012, a runway teeming with wild patchwork fur, ultra-stiff knee-boots, and serious bursts of leather; however, the new Antigona tote is savage on another level. I love dogs, but our rottweiler buddy isn't very cute at all. He actually looks rabid. Maybe he acts as a city girl's guard dog; this could be a cunning way to fend off pickpockets and general accosting.
Plus, the bag isn't even leather. It's PVC, so that's another downer (cuz it's $860.For $200, it could maybe be kitschy fun). Whatever this violent canine is made out of, I'm totally disturbed. Which means it incited a reaction out of me, so maybe Riccardo Tisci –  who seems to like this kind of ironic, shock-value stuff – would say, "Mission accomplished!"
Available for pre-order at Bergdorf Goodman for $860 (expect delivery by October 8th).
This post is also available in: Chinese (Simplified), Chinese (Traditional)