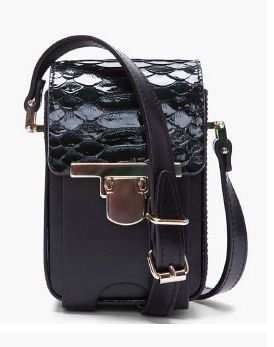 There is nothing chic about looking like a tourist – camera around the neck and mismatched hat, why even bother taking pictures looking like that, it's not like you're going to want to frame that shot.
But being a tourist can be oh-so-chic if you have the right accessories like this Lanvin camera bag in oh-la-la python. You don't even have to carry a real camera in there or for that matter, be a tourist, this totally kitsch take on the old school pouch is so cool for everyday street wearing. Perfectly sized for your iPhone and card holder, you'll be free from the weight of the world and feel like you are actually on vacation.
For all the world travel vibing, you'll be trading in that fabulous vacation to pay for this. But life is about choices and trade offs. At Ssense.com for $1750.