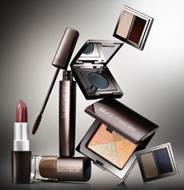 Deep, dark, and naturally tantalizing. With drop-dead black at the forefront of Autumn/Winter 2012-2013 trends, it is only to be expected that film noir makeup would follow suite. Exploring the sultry era of 1940s Hollywood, Laura Mercier nails the trend with her latest collection.
Cinema Noir is inspired by hard-edged yet feminine stars like Ingrid Bergman and Katherine Hepburn, starlets who lit up the screen as black-and-white transitioned into color. Which is exactly how the collection operates. The Eye Colour Duets ($22 each), in Mystere and Suspense, let you blend muted hues of chocolate and teal. Emphasize the sensuality with Tightline Cake Eyeliner ($22), then set it off with Long Lash Mascara ($24) in the surprising shade of Burgundy.
Let lips begin to come to life with a fresh selection of mauves and roses; Raspberry Sorbet and Tea Rose Lip Colours ($24 each) make particularly nice early-autumn pick-me-ups. Add some radiance with the Shimmer Bloc ($38) in Starlet Mosaic, and finally, keep nails light (Nude Silk) or classy (Cocoa Suede) with the new Nail Lacquers ($18 each). The forties may be a bygone era, but the femme fatale never fades away!
The new collection is set to hit stores in July, so be prepared to get your seduction on early.