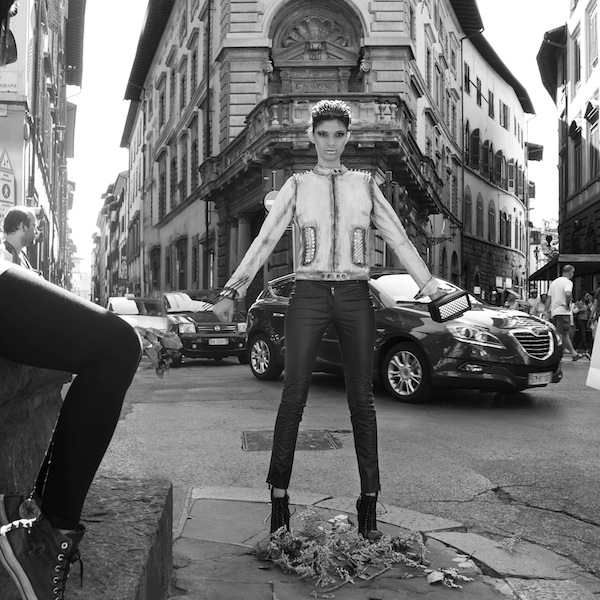 Here is another look I styled for Luisa via Roma Fall 2012 Style Lab inspired by Brian Duffy for American Vogue in Florence 1964. The original image below to me represented a broken heart, an ending of some sort. The crushed flowers, her pose, and the dejected way she hung her head– the woman was saying goodbye.
My interpretation is of a new beginning- my girl is also saying goodbye, but with her head up (in a heavy metal crown, no less), she stomps on the crushed flowers and is ready to face the world with her bad ass accessories to double as weaponry should any more heart breakers get in her way. We shot at the exact same location as Duffy did in 1964, and my assistant doubled as the lady sitting on the ledge. It was pure luck and stroke of genius that a black car passed when my equally genius photographer, Tommaso Fontanella, took the shot! This was so fun to style. I traipsed the streets of Florence looking for a florist and you should have seen the pedestrians passing by as they watched me stomp on the flowers and style my alien superhero looking model! Of all the things I do, blogging, designing, etc– I have to say styling is my favorite. I find it so gratifying. Hope you enjoy the photos!
Karl Eco-Leather High Waisted Biker Trousers
Available at Luisa via Roma.
Thomas Blakk The Poise Leather Squared Box Clutch
Available at Luisa via Roma.
Giuseppe Zanotti 140MM Nappa Spiked Low Boots
Available at Luisa via Roma
for $2,211.
Halaby Medea Crown (this thing weighed a ton, poor model had dents on her forehead afterwards!)
Available at Luisa via Roma.
Halaby Medea Bracelet
Available at Luisa via Roma.
Obsessed with this cuff by Halaby Madea! Definitely can double as a weapon!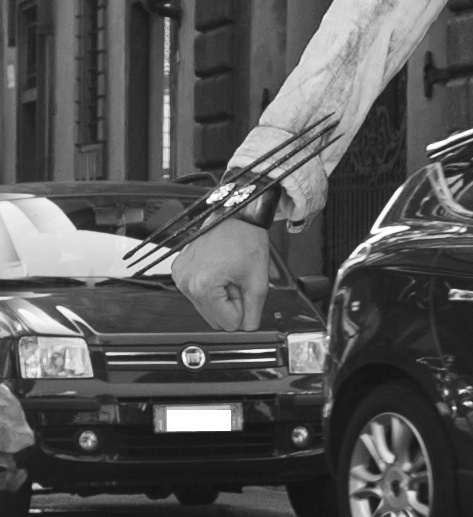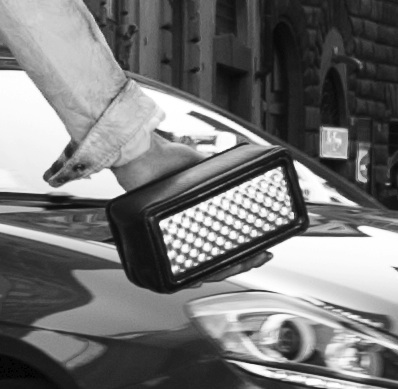 This Halaby Madea crown is one of the most unique pieces I've ever seen.