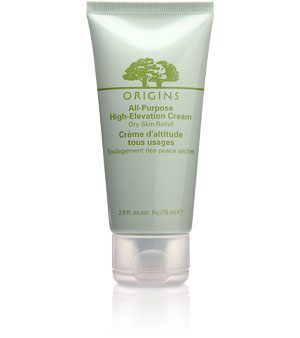 I'm getting on a long-haul flight today and my biggest worry isn't the prospect of 14 hours of boredom, it's the 14 hours of drying out. There's nothing worse than crawling off a plane with sad, papery skin. It's about hydration, hydration, hydration, inside and out.
Prior to getting on-board, I eat a high-sodium meal and drink a ton of coconut water to pretty much bloat myself. And for my skin, I bring a bag full of under 3oz moisturizers. Among them, I'm including this one from Origins, made specifically for high altitudes. Their All-Purpose High-Elevation cream was formulated for mile-high city Denver, so it's especially good for problem areas like dry, rough elbows. On a long flight, the entire body is a problem area. This glides on smoothly and absorbs immediately but instead of a greasy finish, your skin is suddenly soft, plump, and dewy – signifying totally hydration.
To make sure I am bringing the top cream, I tested prior to flying, of course. Even after a few hand washes, I still felt the effect. Now I'm looking forward to a comfortable flight, sans dry, tight, itchy skin. And as for the boredom factor, my iPad is packed with episodes of The Borgias, Scandal and Touch. At Origins for $26.