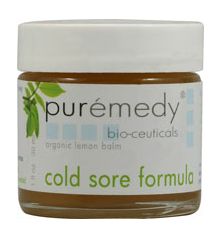 I picked this up at Whole Foods, when my daughter who had a cold sore on her inner lip. As with everything for my kids, I go the homeopathic way first (I didn't want to use anything like Abreva, which is meant for adults). A beauty specialist in the health-conscious mega-store told me Pureremedy Cold Sore Formula works wonders. And to my surprise and my daughter's relief, it did!
When applied to a new and painful cold sore, the relief comes over night. By morning, the sore was still there, but the pain was gone. By the next day, even the sore was gone. And yesterday, my other daughter had a cavity fixed (boo!) and the Novocain made her lips numb and swollen, so what did she do? She kept chewing on it until it became a giant sore, so when the Novocain wore out, of course, it began to hurt. Luckily, I had the Puremedy on hand and poof! Instant relief.
I tried it on myself, and it does have a numbing agent that relives pain on contact, even though it contains 100% natural ingredients. It doesn't taste that bad either – like lemon grass. Keep this one hand for the entire family and when you sense a cold sore coming on, staunch it before it gets nasty and embarrassing!! Available at Whole Foods and Vitacost for $14.39 (from $15.99).