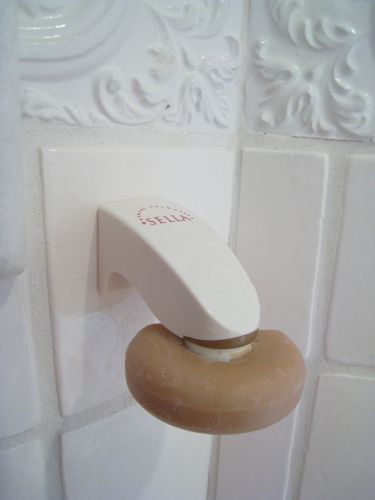 Meet the most ingenious soap-holding method I have ever seen. Honestly, that prospect is what interested me about this product in the first place. I have all these disintegrating soap bars in my shower and by my sink; no matter what kind of water-dispersing soap dish I get, my soap always fall apart. Once I was given a sample of Sella's Premium bar, I immediately started using it, for convenience's sake.
I've tried silver soap, but now it seems the cleansing world has stepped it up. We're getting gold and platinum in our products! This all-natural soap does a perfect job of removing dirt and makeup, but there appears to be even better benefits. This is anti-fungal, moisturizing, antioxidant, anti-aging, and surface-retexturing; it removes toxins from deep within pores, reverses sun damage, and repairs sun spots. The method is through the thorough cleansing of the pores, which restores your skins natural ability to function. Nano-particles are so small, they penetrate deep to clear out toxins.
I've only started using, so I'll have to report back with long-term results but here are my initial reactions: I've noticed tightening of skin, a brighter complexion, and a definitely thorough cleaning of makeup, mascara, and all the layers of sunblock I use throughout the day. The soap holder (sold separately) is not so easy to put on. You have to shove the magnet into the soap, which broke a chunk off though I still managed to get enough on to work. But having it hang freely so it can drip-dry completely is brilliant. It makes it so easy in the shower, there is no excuse not to use it (even for my husband!).
Sella Premium Facial Cleansing Bar, $25, and Magnetic Soap Holder, $5 available at Sella.