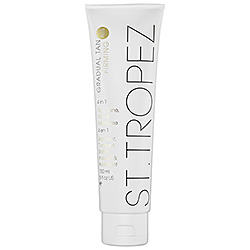 Call me lazy, messy, or just naturally bronzed (and patient I usually am not!), but I am so sick of serious self-tanners. The endless rubbing, the mitts, the staining of bed sheets and favorite white tops…I could go on and on. Even though my skin is not of the ivory complexion that looks pasty come June, I still want a hint of deeper tan without soaking up rays. Or hearing the words MysticTan.
Enter St. Tropez's version of tinted moisturizer. Like the lotions produced by Nivea and Jergens, Gradual Tan 4 in 1 Lotion is designed to "tan, tone, firm, and moisturize." All at once, I suppose. But what makes it different from drugstore brands is their ingredient: Chronodyn (which activates skin cells to improve tone and texture) is made especially for St. Tropez. Plus, it supposedly provides a protective anti-oxidant to reinforce your skin's natural defenses against the elements. The lotion has a light, almost refreshing scent, thanks to Aromaguard, which eliminates the stench of self-tanner.
I just started using it today –simply rub it in thoroughly, especially around the thighs and bum, wash your hands, and wait til it's fully absorbed before getting dressed – so we'll see if I get any tanner. Or firmer, for that matter. I'll keep you posted! And if you've tried it too, share your thoughts! At Sephora for $40.