Father's Day is here in a week-and-a-half, but have you picked out what your getting for the dapper dad in your life? If not, it's all in the wrist, as a timepiece is a wonderful gift that makes everyone happy. Here's the Man Snob's list of the top five watches for dad: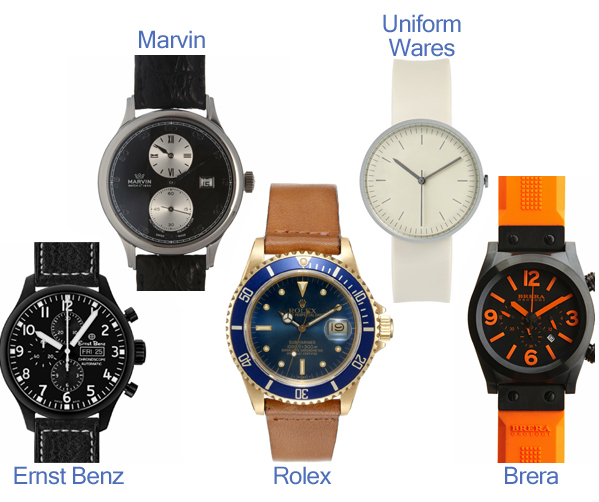 1. Ernst Benz GC10171N: Super clean, and chic, this watch has it going on with this chronograph. Black and white are the two classic colors of fashion, and in a watch, it means that it'll match everything!
At Barneys New York for $5850.
2. Marvin C 1850: There's something about the organization of the face of the watch that makes it work. Simple, yet complex, it's modern and classic, all at the same time. For the dad who can assemble the past with modernity in a look.
At Barneys New York for $2,840.
3. Rolex 18k Yellow Gold Oyster Perpetual Submariner Date: This watch is a classic, and has been considered one of the finest timepieces ever made. I dream of one, and plan on having one sometime in the [near] future. That said, this is for the dad who has it all, or just is a true gentleman. Tan not included.
On Park & Bond for $15,500.
4. Uniform Wares 100 Series: It doesn't get more simple and pared down than this beauty. It echoes a wall-clock, but the sleekness is a characteristic that is totally European, and totally fantastic.
On MR. PORTER for $200.
5. Brera Eterno Crono: For the sporty set. This keeper of time is more for the rugged man on the go (like my dad), and as a neon, it will go with anything and everything.
At Barneys New York for $650.