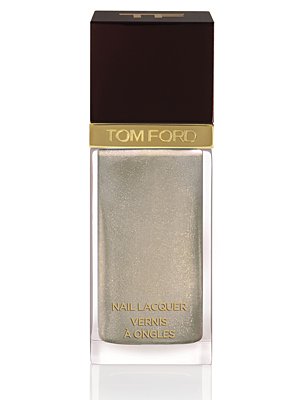 While my tots were obsessed with Snow White in Mirror, Mirror, I was mesmerized with Evil-Queen Julia Robert's nail color: a glimmering, metallic silvery-gold. Our villain wore this color throughout the film, and not only did it provide her with a royal air, Julia's modern take on the aging beauty required something edgier than traditional red.
Since then, I've been fruitlessly looking for the right shade. It can't be too gold or too pearlescent – then it's like old-school, old-lady polish. It's got to have the right amount of shimmer, sans actual actual sparkles.
Trust Tom Ford to deliver the goods to the woman who knows what she wants: his Silver Smoke is it! Gold flecks plus silver polish is rock 'n' roll in a bottle. As with all Tom Ford Beauty products, this isn't your average color. The glamorous level of saturation is key to ensure full heavy-metal effects. Snow White's got nothing on this Evil Queen's manicure! At Saks Fifth Avenue for $30.