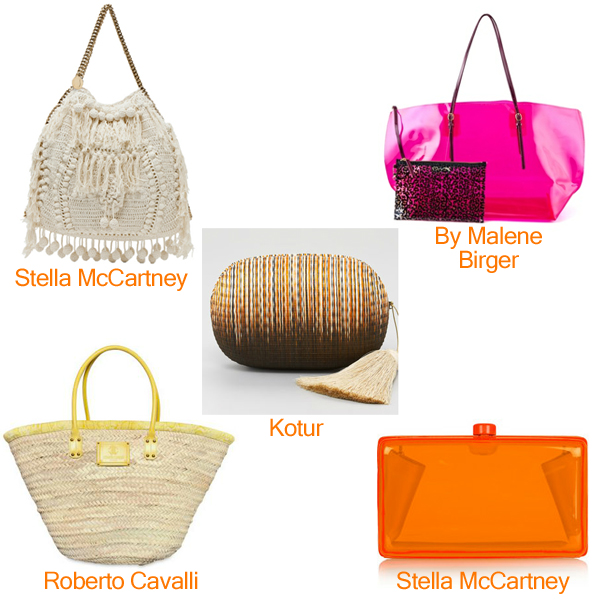 Summertime and the living's easy. Especially when you get to spend it catching waves and hanging on the beach. Not so much if you're more of a sand bunny like me and can't catch a wave to save her life (they call girls who've taken boards to the face "blah-malahs," by the way!). But we all have a little Gidget in us, and you can still carry a bodacious bag, even if you're simply enjoying the sun.
1. Stella McCartney Crochet Big Tote: Macramé-style crochet harkens back to vintage days of SoCal surf culture. Stella's seafaring bag will go the distance, on and off the sand.
On Forward by Elyse Walker for $2,495.
2. By Malene Birger Don't Lie Evidencia Bag: Jelly-inspired hot-pink plastic means you can get it wet and not fret. Patent-leather handles and a leopard-print pouch make for a snobby upgrade.
On Shopbop
for $179.
3. Roberto Cavalli Python-Printed Canvas & Straw Tote: Even your typical no-frills beach babe can appreciate a little Cavalli when it comes in classic straw and oceanic trim.
On Luisa via Roma
for $553.
4. Kotur Barnes Straw Clutch: Yes, a diehard Betty should still turn it out for evening. In laidback straw, Kotur's sunset-esque clutch is a glistening compromise.
At Bergdorf Goodman for $450.
5. Stella McCartney Alice Neon Resin Box Clutch: Electric-orange resin may look like a it belongs in your bag of beach toys but not when Stella has a say! She nails surfer spirit again with this casual-cool clutch.
On Net-a-Porter
for $1,183 (from $1,691).