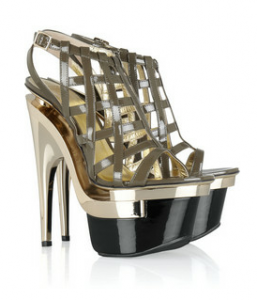 Versace has been doing this extreme platform style for a few seasons now, but the neutral taupe cagey lattice upper in the Versace Cutout Platform Sandals allows for actual wear to normal events. At ShoeSnob.
Stiletto Jungle explores the top options for creating a bright, white smile.
Read all about the Death of BeautySnob's Digital Perm and Return of Sleek.
Kris Humphries claims Kris Jenner staged Kim Kardashian's sex tape — Allie is Wired.
Coquette wants to brighten up her summer wearing a sunny shade of yellow.
Even if you're more like CoutureSnob and unlikely to claim a surfboard for your own, you can still claim some hang-ten style, from Hanalei Bay to Ditch Plains with the Top 5 Surfer-Girl Staples.
The Beauty Stop spills on the best new summer beauty product steals and freebies.
The Jet Set Girls share their Summer Reading List 2012.
Emilio Pucci Crystal-Embellished Star Jewels: Reach for the Stars …without dropping a galactic amount of cash! At JewelSnob.
Shopping and Info wants these Burberry black riding rain boots for summer rainstorms.
Manolo the Shoeblogger warns designers: Kristen Stewart will make you clothes look bad.
Unleashed you little one's creative spirit with LaQ Snap Toys: Snap, Crackle, Pop! At TotSnob.
Second City Style won't tell anyone if you feel the need to twirl in this Summer 2012 Trend: Skater Dresses.