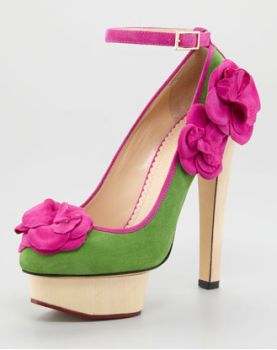 Tomboys best keep on moving past Charlotte Olympia's latest confection of whimsy and optimism. Charlotte Olympia Flora Ankle-Strap Pump: April Showers Bring June Vixens! At ShoeSnob.
Stiletto Jungle shows 12 hidden shopping gems of London that you can shop from your computer.
Need a good laugh? Check out Allie is Wired's 10 hilarious celebrity equations.
Steal the Look: Deborah Ann Woll is a True Beauty at BeautySnob.
Coquette gets crafty with the DIY Hermès Jigé Clasp which features six different patterns you can download, cut out, and put together.
JewelSnob will help you pick out the perfect watch for Father's Day!
The Jet Set Girls are lusting after Bric's Missoni carry on luggage.
Second City Style loves the challenge of mixing prints (It's like finding a new dress in your closet!) and shows you How To Mix Tribal Prints.
The Fall 2012 gear has just been unleashed, courtesy of Luisa via Roma. Read more about the Top 5 New-Look Leather Jackets at CoutureSnob.
Shopping and Info checks out how to dress like a fashion model in New York City which includes a Celine bag and Isabel Marant.
The Beauty Stop takes a look at the brand new Deborah Lippmann Snow White Nail Lacquer Set.
Puremedy Cold Sore Formula will heal your cold sore in no time! At TotSnob.