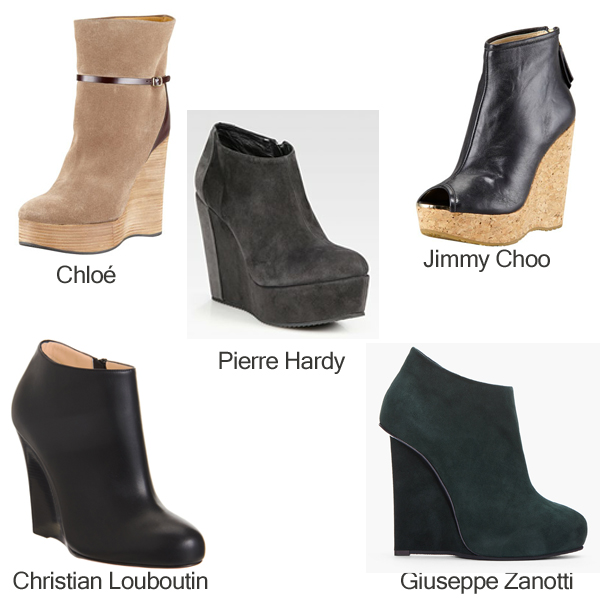 Top 5 Wedge Boots: Something to Fall Back On
Jeans, meet your best friend for fall. Actually, these will be popular with your whole wardrobe  – a few could even be fab with the right pencil skirt.
A platformed wedge makes for easy living. You can run with the wind and not get slowed down. I love especially contrasting wood and cork wedges, but with so many great options out there, why do I need to settle for just one?
1. Chloé Suede Wedge Boot: A palette of desert sand and a laidback fit make this a casual winner with a touch of leather pizzazz.
At Bergdorf Goodman for $995.
2. Jimmy Choo Paw Cork-Wedge Leather Bootie: Leather this crinkly-soft looks even better when it's juxtaposed against lightweight cork. A flirty zipper-pull and mini-peep-toe show off smart attention to detail.
At Bergdorf Goodman for $575.
3. Christian Louboutin Belle Zeppa: It doesn't get sleeker than this. With a low, sexy cut, this makes for ultimate proportion versatility. Go short, long, tight, or voluminous.
At Barneys New York for $995.
4. Giuseppe Zanotti Green Daisy Wedge Booties: An ultra-thin wedge brings elegance to the whole vibe, as does a second twist: deep, midnight green instead of typical black.
On Ssense for $795.
5. Pierre Hardy Two-Tone Suede Wedge Ankle Boots: Chunky, two-toned fun! Gray goes with, duh, everything, and this pitch makes you feel like you're cavorting in flats.
At Saks Fifth Avenue for $685.