I am at the Banyan Tree resort in Phuket, Thailand this week (yes luckiest girl on the planet, I agree!) recovering from a nasty Asian flu virus that I wouldn't wish on my worst enemy. It's been almost two weeks and I am still not 100% recovered! We had planned this family vacation months before and luckily I was well enough to travel (after being quarantined at a hotel in Taipei, I was ready for sun and fun!). The Thais are such gracious and serene people, I can't say enough about the culture (or the amazing food!) and Banyan Tree Phuket is probably one of the most luxurious resorts I've ever set foot on. From the moment our plane landed, we have been pampered and coddled! I can't begin to describe how amazing the property is, let alone our Double Pool Villa– the master bedroom is built over the back pool so our bed literally floats on water! But that's another entry altogether, I can only process so much information at once and right now, I'm obsessed with their spa! Being a spa addict, I have been to spas all around the world, but none have compared to the experience I had this week at the Banyan Tree Phuket spa.

My hacking cough aside, I was in great spirits when I arrived at the spa. Two bowing Thai attendants (I've taken to bowing back with both hands in prayer position, such a lovely way to greet people!) took me to the spa lobby facing the private spa pool where I sipped on a sweet herbal tea said to diuretic effects while waiting for my masseuse to fetch me. She appeared almost too soon and led me to a private villa, 700 sq ft of space just for little old me?! Fantastic! Once inside, my masseuse Mai proceeded to remove my shoes and soak my feet in a rose petal foot bath. She gave me a light foot and hand massage before showing me to the dressing room with an outdoor soaking tub. I gave into my usual self portrait urge (I'm known to take selfies in bathrooms, don't ask!) and took a few snaps before returning to the massage room.
Mai got to work on me immediately, I chose the 90 minute Asian Blend massage which involved a lot of stretching with deep tissue massaging. For a tiny girl, Mai sure was strong. She got on the massage table a few times to work deep in my back, where I was having a lot of pain. I won't lie, the massage kind of hurt, but in a good way! I don't know how I managed but I actually fell asleep while she was pulling and stretching my legs and hips in all directions in addition to pounding on my back and calves. When she woke me to flip to my front side, I felt two itchy mosquito bites on my neck (one of the downfalls of being in Thailand– bugs are everywhere!) but I was so relaxed I didn't care. At the end of my 90 minute massage, I climbed (actually fell) off the table in a daze. Every muscle in my body was relaxed, so much so that I felt as if someone had given me a tranquilizer. If you'd asked me basic multiplication at that point, I don't think I could have computed any answers.
After changing back into my clothes, I was given a plate of fruit with yogurt and more lemongrass tea. I was tempted to ask if I could stay in the massage villa and take another nap but alas, my boy and hubby awaited me by the pool and I had to return to reality. Those of you who know me know that I take my iPhone into massage rooms and sometimes will take conference calls during a massage but I locked my iPhone away in my locker for a full two hours without going through withdrawals, now that is a serious accomplishment. If you're ever in Phuket, you must go to the Banyan Tree spa! My massage cost around $170USD ( 5200 Thai Baht), the most worthwhile two hours I've ever spent!

Excited for my day at the award winning Banyan Tree Phuket spa!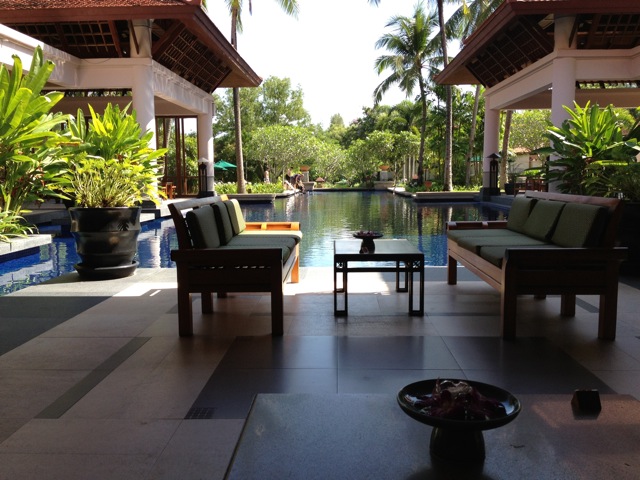 Banyan Tree Phuket spa offers a private pool (no kids allowed!) for spa patrons. Here I sat sipping on a fragrant herbal tea while waiting for my masseuse to fetch me.

My private massage villa, aptly named the "Pepper Villa" as I love nothing more than hot peppers!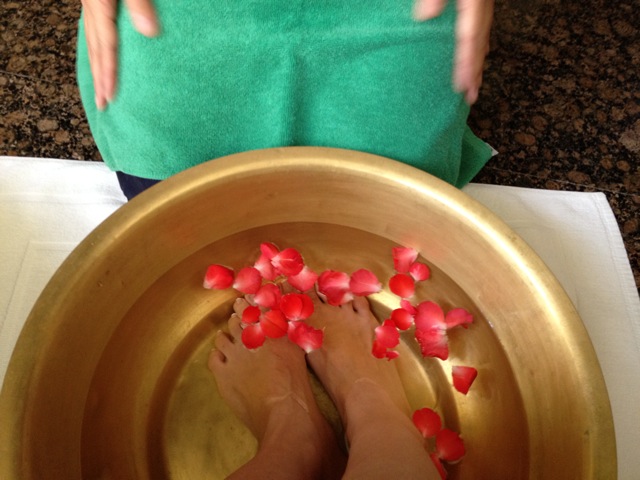 Rose petal foot soak, foot and hand massage with tea to prep me for the 90 minute Thai Classic massage.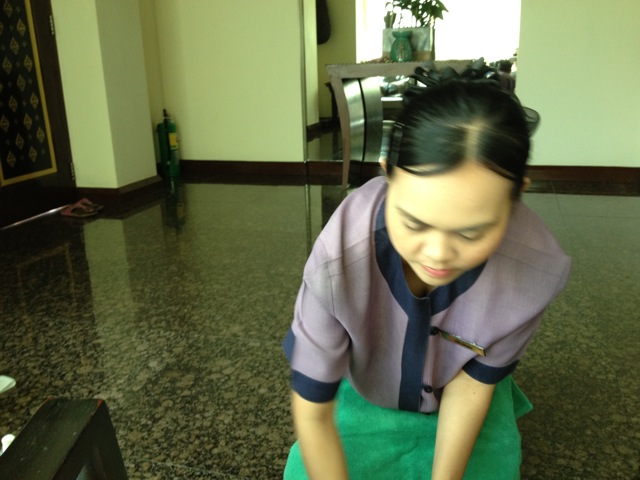 My lovely masseuse!

The massage room. Fits an entire bridal party but lucky me, I had it all to myself.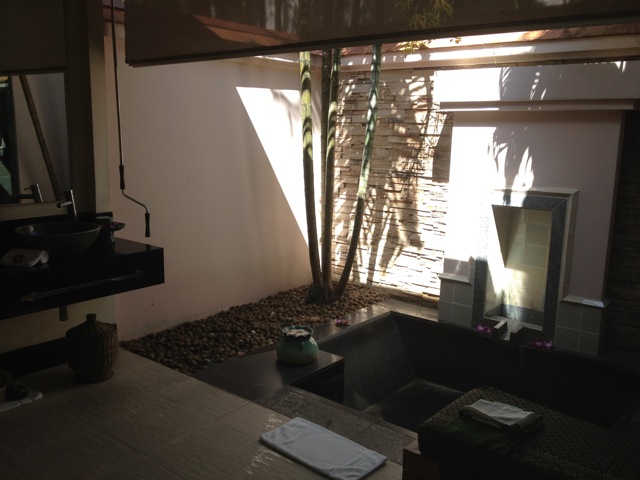 Indoor/Outdoor changing room. That is an outdoor soaking tub!

I'm kind of known for my silly self portraits in bathrooms, so I couldn't resist a few shots!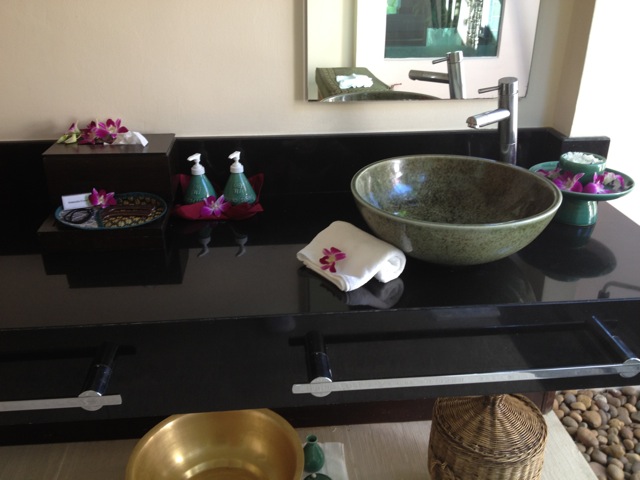 Fresh flowers abound at the Banyan Tree Phuket. You find them strewn casually everywhere. It's such a nice touch!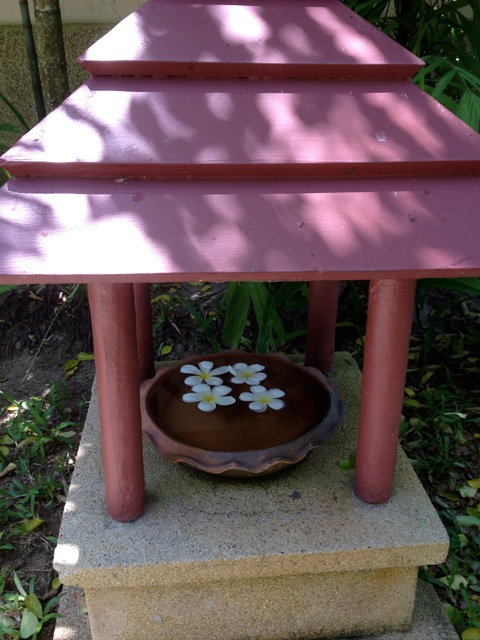 Little mini pagodas with bowls of fresh flowers line the walkways at the resort.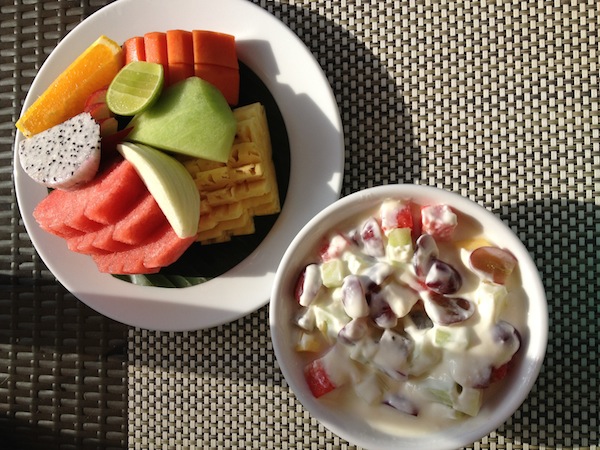 At the end of the massage, I was given yogurt with fresh fruit and more lemongrass tea before returning to reality.