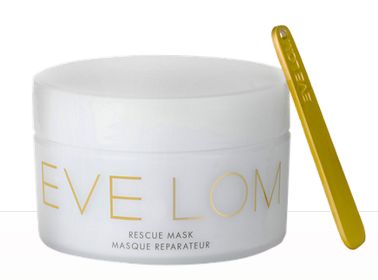 As I've already mentioned, I'm currently enjoying swampy Taiwan weather and it is wreaking havoc on my skin (and hair!). Can you spell C-O-N-G-E-S-T-I-O-N? My poor pores are clogged beyond recognition, and now I feel like they're stretching out, making me look rather rough. I needed a deep cleanse that also exfoliates, so I ran to my favorite beauty boutique here, 1010 Apothecary, and picked up the Eve Lom Rescue mask.
Yes, of course, the name spoke to me but after a few uses, I do feel like this product is my white knight. This is a clay-based mask that dries to a plaster-y finish…with a smell that's quite interesting. (I don't mind it, although I can see how others might find the strong, medicinal scent objectionable.) But who cares if it works? And it works.
I really do feel this has saved my skin. The thick upper layer that seemed to cake my face is gone, my pores are slowly going back to normal, and I even enjoy moments of matte skin (when I'm not fully engulfed in sweat).
Plus, the effects are long-lasting, not only noticeable right after use. For a couple of days following, you see a reduction in oil production (this might be a side effect of clearer pores, but the results are such that I no longer look greasy and gleaming at all times). It also improves texture. The exfoliating benefits are deep so they actually change the skin, not just the surface
The instructions say to use it once or twice a week, and I'm finding it hard to wait that long – I want to use it everyday! But the reality is I don't need to; twice a week is plenty for such extreme conditions, so for you lucky ones living in more arid climates, once a week will do wonders. We all need a little clearing and some deep-cleaning in the summer months. At Barneys New York for $85.