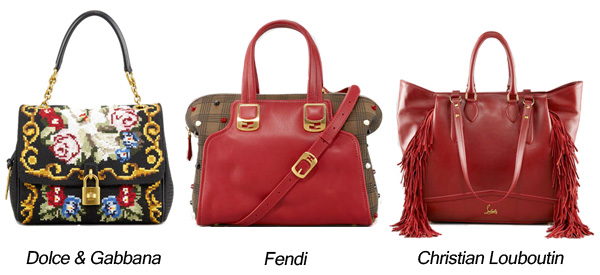 Carpetbaggers, circus clowns, and rhinestone cowgirls rejoice: Fall 2012 is chockfull of bags made just for you. If it's an assault on the eyes you crave, these overly stimulated, ultra-busy bags ought to strike your fancy. Seriously, what's going on?!
Dolce & Gabbana's bags always veer from the intensely chic to the intensely unsettling, and they've overdone it again with the Miss Dea Tapestry Satchel (available for pre-order for $3,075), a frightening carpet-y weave with a leopard lining, to boot. And let's not even get into the multi-figure price tag.
Lost your desire to cut a rug? The Plaid Chameleon Tote by Fendi ($2,680) shows a big step back for the brand. The joke's on you with this leather-paneled, stud-scattered, plaid disaster. It looks like they couldn't decide on a material, so they just went with whatever leftovers were lying around the showroom.
And finally, rounding out the worst of the season: Christian Louboutin's Justine Fringe Tote ($2,795), which has succeeded in taking lovely, deep crimson leather and trashing it into rodeo territory with four sloppy bursts of sagging fringe (one at each corner, thank you very much). Suddenly, summer's looking pretty good!
All available at Neiman Marcus…but why would you even want to know?