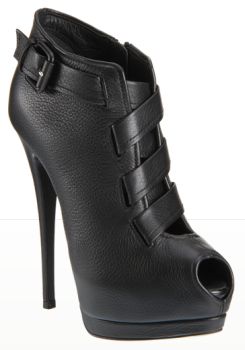 Giuseppe, you've done it again! It's possibly I'm developing a true addiction to the unstoppable designer. Just when I thought fall shoes were getting boring, here comes the ever-trusted Zanotti to brighten me up. Oh, it's just another bootie, I thought at first, and then I looked again. The injection of diagonal straps changes the scenery completely.
Firmly slipped through like a leather ribbon and finishing itself off at a perfectly placed buckle, this lacing is miraculously more than enough to make ankle boots exciting again. Add a peep-toe and nearly 6" heel, and you've got a black bootie that seriously pops. No-brainer boots are rarely this awesome. One like this translates to a worthy buy that will take you through many seasons of wear in high and sexy style. At Barneys New York for $995.
Pair with: A knit dress with a peter-pan collar, like this one by M Missoni, suddenly feels edgy once you've teamed it with killer booties. On Net-a-Porter
for $995.