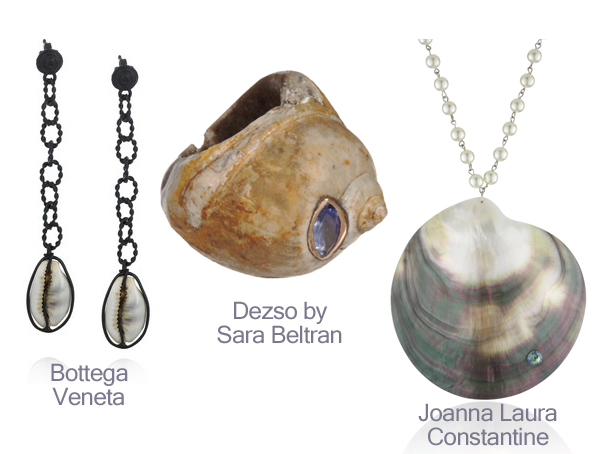 I'm in a touristy mood lately. There is no beach vacation without coming home with some sort of seashell trinket. But just because I'm after beachcomber souvenirs doesn't mean I'm interested in looking like a dorky adventurer. Instead of a typical and cheesy Waikiki puka-shell necklace, these pieces offer that same laidback surfside feel – along with a much-needed dose of fashion sense.
1. Bottega Veneta Ruthenium-Plated Silver Shell Drop Earrings: Bottega continues to expand their increasingly eclectic range of jewels. The Panther Crowy shell earrings are subtly exotic, with jet-black links that demand you pull your hair back and show them off. On Net-a-Porter
for $530.
2. Dezso by Sara Beltran Fossil Shell Ring with Tanzanite: This rustic and organic fossil shell appears to have been plundered right out of the sand, until you notice a true treasure: the tanzanite marquis set in rose gold. At Barneys New York for $650.
3. Joanna Laura Constantine Aqua Long Shell Pendant Necklace: Pearls go back to their natural roots with this massive seashell pendant. Glimmering with iridescence, this ought to bring out the mermaid in any land-lover. On Endless by Amazon for $84.50.