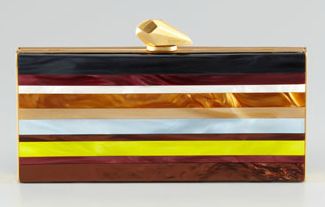 Brown lacquer and mother-of-pearl resin with black enamel is dreadfully old-lady-ish, but this little box clutch exudes a young, upbeat quality. Kotur has ingeniously invited neon yellow and powder blue to crash the stodgy tea party, and these two bright tones change everything! Two flashes of peppy color are sure to spike the punch, so to speak, and now it's an all-out fiesta.
You wouldn't expect such a stiff minaudiere to be so ripe and vibrant, but here it is. I'm not one for clutches like this, but I certainly appreciate a crowd-pleaser when I see one. Kotur's trademark jewel-inspired closure, delightfully asymmetric, keeps it offbeat and jacquard lining keeps it luxe. At Neiman Marcus for $650.
Pair with: Keep the mood light and the color perky with Kain's sunshine-yellow Cam dress, a silk-blend with a tulip-like wrap effect. On Net-a-Porter
for $265.