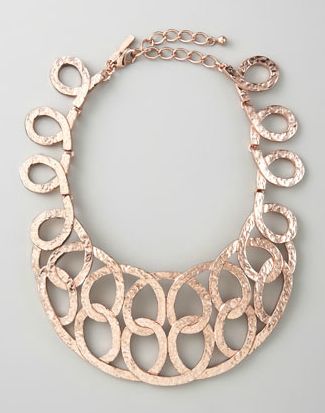 From personalized bangles to semiprecious stones, Oscar de la Renta jewelry has been good for so many seasons now. The line has evolved into my go-to designer for pieces to wow, yet not make a major dent in my finances. Like an incredibly bold bib necklace in hammered gold (big for Fall 2012) to create a mega-statement outfit with the latch of a single lobster clasp.
Leave it to these vivacious loops – which feel at once ancient, retro, and modern – to make white blouses come alive and black dresses stand out in the crowd. If the piece looks imposing, don't worry. It's smartly hinged to fit with comfort – the multiple-chain closure ensures proper fit around your throat and chest. At Bergdorf Goodman for $525.
Pair with: A slim-fitting boat-neck dress is a strong counterpart to a strong necklace. In orange-rust, Diane von Furstenberg's Gabi stretch-jersey dress is a confident cocktail look. On Net-a-Porter
for $345.