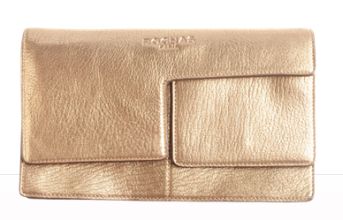 A clutch like this makes you wonder why it's never been done before – I don't think I've ever seen a clutch exactly like it. Rochas has come up with a totally brilliant flap design, executed in their archetypal grainy, golden leather. Two snap-closure pockets flaps arranged to break things up and create some interesting lines for your eye to focus on. Not to mention the element of instant organization; I'm thrilled to see a mid-size clutch that offers some dividers. The secondary flap opens up to reveal a pocket for easy to lose items.
Light metallic gold is great for the holidays, but I suspect this will be coming in many colors later in the season. It's just too good to be a one-off. Bright innovations are always so simple once you see them. This one doesn't just have eye-catching geometry, it's got convenience to carry you 24/7. At Barneys New York for $1,000.
Pair with: I'll also be wanting to wear Pierre Balmain's dipped-shadow jeans from morning to night. Two tones of faded hue come together in smart cropped fashion. On Ssense for $680.