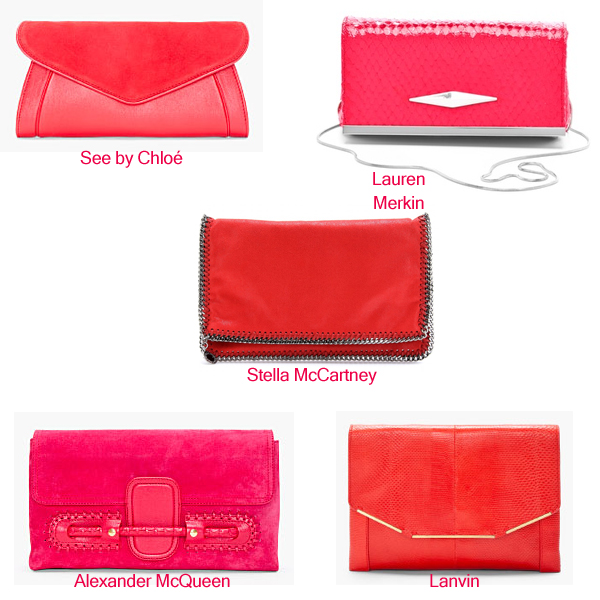 The dog days of summer can get tiring. Heat, humidity, and the need for way-too-frequent pedicures may have you lagging, which means it's the right time for a mid-summer pick-me-up! And what better way to lift your spirits and brighten your eyes (as well as your outfit) than with a mega-watt bag in a shade of cherry? When fresh white starts to feel not-so fresh anymore, turn to a pop of rosy color (and yes, a small pop is all you need) and feel the blast of energy:
1. See by Chloé Red Removable Strap Clutch: A classic, girly shape and mix of pebbled leather and suede makes this sweet sizzler an absolute no-brainer.
On Ssense for $340.
2. Lauren Merkin Handbags Essex Neon Snake Clutch: Snake-embossed leather in this outgoing shade of pink neon makes for a little bag with a big impact. All your neutrals will thank you.
On Shopbop
for $375.
3. Stella McCartney Falabella Shaggy Deer Fold-Over Clutch: The Falabella is the bag that won't quit, but in this juicy, saturated shade of sueded faux leather I don't want it to.
On My Theresa for $727.
4. Lanvin Red Snakeskin Envelope Clutch: Lanvin on sale means you're in luck. I love the streamlined feel of this snakeskin clutch, as well as the delicate metal details. Most of all, I love the color.
On Ssense for $969 (from $1,385).
5. Alexander McQueen Large Cherry Folk Clutch: The Folk clutch is a beauty in black, but in cherry suede, it's an absolute head-turner. Actually, I can't look away, either.
On Ssense for $1,325.
This post is also available in: Chinese (Simplified) Chinese (Traditional)