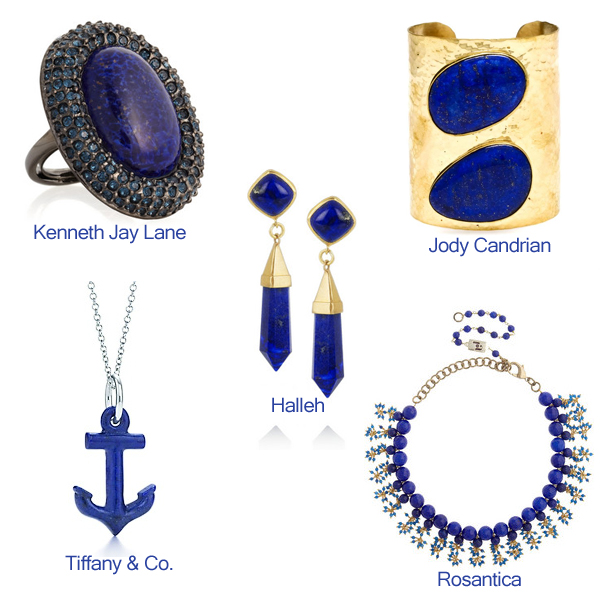 Cleopatra is said to have used it as eye shadow, Afghanistan miners plundered it in the third millennium, and beads of it were placed in Neolithic burials. Yet lapis lazuli looks more modern than ever at the moment! The color of this hue is so rich it has a decadent air about it, but that doesn't detract from its inherently rustic spirit. Which is why it's so versatile – just take a look at the top lapis of the moment:
1. Kenneth Jay Lane Swarovski Crystal and Lapis Lazuli Ring: Spotted and bedazzled, this elevates the stone into the cocktail realm with a setting fit for a (costume) queen.
Exclusively on Net-a-Porter
for $180.
2. Jody Candrian Brass Cuff with Double Lapis Lazuli: Massive and emboldened, just the way I like my cuffs. Hammered gold and organically shaped lapis adds up to Egyptian-inspired chic.
At Browns Fashion for $1,387 (£895).
3. Halleh 18-Karat Gold Lapis Lazuli Drop Earrings: Lapis goes classic with these angular drop earrings, just the accessory to add purpose and intrigue to your favorite white tee.
On Net-a-Porter
for $2,420.
4. Tiffany & Co. Anchor Charm and Chain: Take your lapis lazuli with a side of nautical playfulness. This little, sterling silver-accented anchor is destined to be your trademark summer pendant.
Charm, $400, and chain, $50, available at Tiffany & Co.
5. Rosantica Amore 24-Karat Gold-Dipped Lapis Lazuli Necklace: It looks ornate enough to sit behind glass, but this cornucopia of beads and gold-dipped brass begs to be worn a multitude of ways, from casual to black-tie.
On Net-a-Porter
for $705.