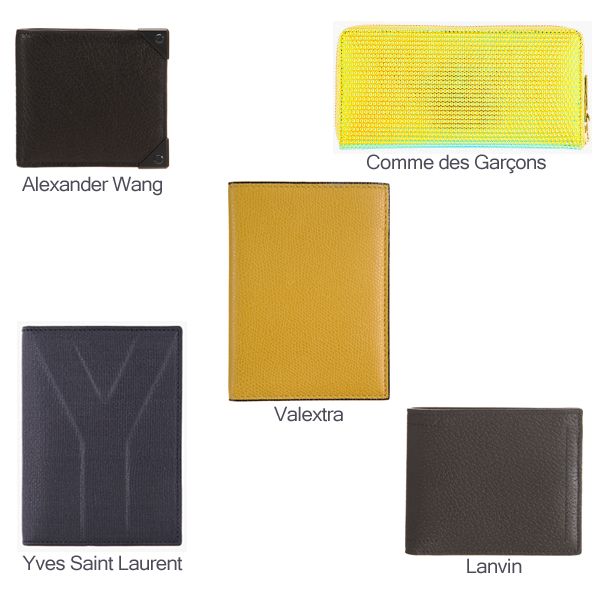 Imagine this bit of horror: you're at dinner at one of the chicest restaurants in town, and the check comes. You pull out your wallet, and your guests mouthes drop in shock of seeing what you're carrying. You just had the most epic of epic fails: the ugly wallet. Luckily, I'm here to help prevent that and to bring adoration and jealousy in regards to that heart of your financial matters.
1. Alexander Wang Wallie Billfold: Simple and edgy? Yes. Boring? No way, José. This wallet with its matte black treatment and numerous pockets and card slots is perfect for any guy who wants to appear organized, but not overly so.
At Barneys for $225.
2. Comme des Garçons Long Luminescent Yellow Wallet: Sometimes you just want to make a statement. This neon concoction is the perfect way to do so. With enough room to hold everything you need, it has a way of illustrating that CdG chicness that many worship.
On Ssense for $445.
3. Lanvin Classic Billfold: For Maison Lanvin, chic accessories are something that all Snobs alike have come to expect (and more importantly, deserve!). A classic billfold is normally not what one would expect to qualify as chic, but Lanvin did us right here. This portefeuille has eight slots, four pockets, and two bill compartments. How's that for hyper-organized?
At Barneys for $450.
4. Yves Saint Laurent Large Scaled Leather Wallet: Simple, chic, and clever. This vertical bi-fold wallet has one of my favorite features, an ID holder. There are just enough slots for an ID, two credit cards, and, of course, your Pinkberry® punch card.
On Ssense for $275.
5. Valextra Credit Card Wallet: Valextra is one of the finest leather goods companies that exist today. They have created bags and other goods that truly are art, always surpassing the loftiest expectations. This wallet in a decidedly slick pebbled yellow has eight credit card slots, and three additional slots for whatever fills your pocket with joy.
At Barneys for $380.