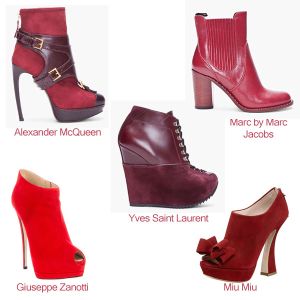 Crimson, oxblood, primary, and bordeaux: the color ranges from the subtle to the sensational, but Fall 2012's best booties are all sexy and vampy. The Red Light Special at ShoeSnob.
Stiletto Jungle counts down 10 ways to save on summer essentials, from sunscreen to mani-pedis.
BeautySnob compares the Chanel Glossimer and the Maybelline ColorSensational.
Have you heard No Doubt's new single "Settle Down" yet? Allie is Wired has it!
We are well aware of the harmful rays of our constant cell phone use, not to mention, wifi and whatever other rays that's swirling around us. The best way to shield your unborn tot is with the Belly Armor. At TotSnob.
Coquette's new beauty fav is Clarins Shaping Facial Lift Serum which gives your face a sculpted contour after just four weeks of use.
Hayden Christensen proves all it takes is a gorgeously structured, stark-white top-handle (and a pair of booties with flair) to move a tee-and-cutoffs combo into covetable territory. Steal the look at CoutureSnob.
The Jet Set Girls are wearing and loving the new Kiehl's Aromatic Blends.
Second City Style is pretty sure you know the peplum that made such a splash last spring, is back again for fall in Trend For Fall 2012: The Peplum Returns.
Sara Designs Metallic Leather & Chain Wrap Watch is the most subtle way to work in the watch without overkill of chains. At JewelSnob.
The Beauty Stop has fallen in love with Lollia Shea Butter Hand Creme.